Death of Luther McCarty: Ten Seconds of Light
by Les Hewitt, July 2016 – Updated July 2019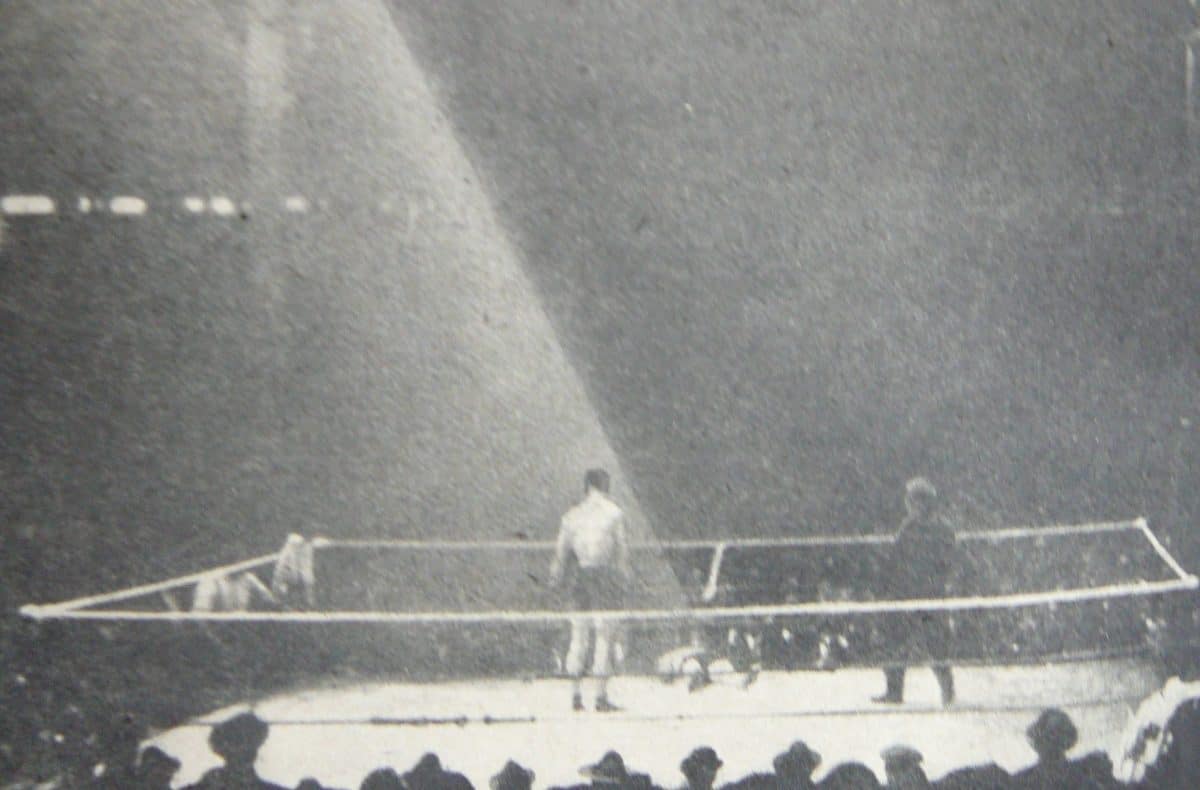 Rising Star Luther McCarty
May 24, 1913, was always going to be a memorable day; it is doubtful that anyone in attendance to see Luther McCarty fight could have foreseen just how memorable it would be. The fledgling star was going places when his life was cut short in the boxing ring. However, what occurred at the moment of his death left the crowd in awe.
The Limelight of His Life and Death
Two years prior to this day, heavyweight boxing's latest 'Great White Hope' first donned a pair of boxing gloves and began a short but meteoric career. Luther McCarty had grown up quickly, and when he came of age he stood at an impressive 6'4" and had developed a strong left arm jab that had a reach of 80 inches.
It was on 7 January 1911 that the 18-year-old made his professional boxing debut and made short work of his opponent, Watt Adams, when he won in the second round with a knockout. During the rest of that year, Lute – as people nicknamed him – had seven more boxing matches. The first of these was against the legend, Joe Grim, who had a famous iron-chin. This one ended in a draw, but the young fighter spent much of the bout trying to knock out the 'toughest man on Earth'. Of the other six bouts, only one failed to register another knockout.
The Fierce Contender
McCarty's reputation grew over the following year, and even in this fledgling boxing career, a superstar was emerging. The world considered him a real contender against the formidable Jack Johnson. Comparisons between Luther McCarty and John L Sullivan were already being made, and the future looked very bright for the pugilist. As talented as he was inside the ring, McCarty lacked experience. Throughout 1912, he won many of his matches decisively. Numerous other heavyweight contenders of the time stood little to no chance when put in front of McCarty.
The Glowing Cross of Lismore Which Shined Unexplainably
Such was the dominance of Lute, that his managers arranged a championship bout for New Year's Day, 1913. The current White World Heavyweight Champion of the time was a fighter called Al Palzer. Once again, the impressive McCarty won the match and the title but only on a TKO in the 18th round. Palzer might not have been able to compete with McCarty, but he did fare better than most. Several more victories followed on, some of them rematches from 1911, until promoters saw value in a dream match between McCarty and Johnson. Unfortunately, McCarty never got to test himself against the other great heavyweight of the time.
Sudden Death
McCarty had an upcoming title defense against Arthur Pelkey in something called a stay busy fight. As the boxers were about to be introduced, a local minister took to the ring in order to make an announcement to the 6,000-member audience:
"I know you men are going to help us buy a bell for our church. Your silver tokens will buy a memento for God's house and it will be a credit to you on the Great Ledger. Everyone must have credit in his Ledger, for who knows whom the Great Referee will call home at any moment?"
The bout began and never went beyond the end of the first round. When a light punch landed just above McCarty's heart, he collapsed. As the referee, Ed Smith, began counting him out, he quickly realized that something seemed terribly wrong. Immediately, he summoned medical support on standby. After eight minutes, McCarty was declared dead. Pelkey was just as bemused and concerned about McCarty's fate as anyone. A coroner's report later determined that the cause of death was likely an accident that McCarty suffered in a horseriding incident sometime prior to the fight taking place.
Ethereal Light Befalls McCarty
What sets this boxing match apart from any other throughout the history of boxing was what occurred during the referee's count. An ethereal shaft of light beamed down as the count began. It ended at ten. This light solely illuminated McCarty's body and shocked many of those in attendance.
The only known photo taken of this light has been debated ever since. Almost immediately, stories began doing the rounds that this photo is edited or is a pure hoax. However, no-one has yet managed to explain how it was done. Many of the audience in Tommy Burns Arena during the brief two-minute boxing match say that the light was a genuine occurrence and not faked in any way. This photo is not the only unexplainable situation in the barn. Legend states that the venue for the ill-fated fight burned to the ground the following day.
What was this light and where could it have come from? How did it illuminate one fallen boxer while the ref counted him out of the match?
References:
Altered Dimensions
http://boxingbiographies.co.uk/html/luther_mccarty-bb.HTM
Sites pulled 17 July 2016