Brant Buckley's New Album Channels the Spirit of Blues Pioneers
Listen to the eerie haunting song Times Strange.
by Ellie Zed, May 2021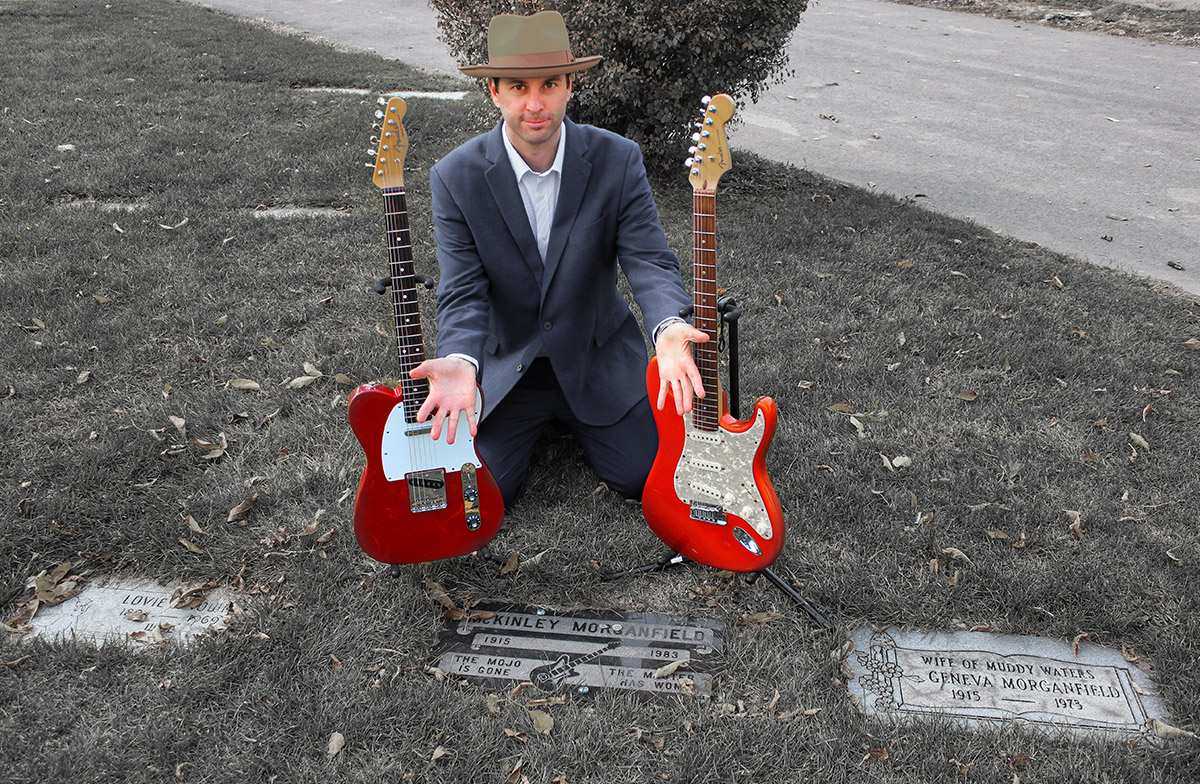 Rock and Blues musician Brant Buckley unveils his new song, "Times Strange," about the alienation caused by the pandemic. The music has a haunting quality, and Buckley's methods are uniquely paranormal-inspired. Buckley's songs reflect on the recent pandemic, reincarnation, and spiritual channeling of Blues originators.
The guitar playing on this album has a good Blues sound. The dobro guitar produces a nice dirty sound quality that captures the "caged up" feeling we're all experiencing.
The song "Times Strange" comes from Buckley's latest full-length album release, Times Strange (May 2021). Buckley says of the album: "I have gone to all of the old Blues Graves in the Chicago area: Muddy Waters, Big Bill Broonzy, Jimmy Reed, Howlin' Wolf, and Willie Dixon. Their ghosts and shadows are my teachers."
We recently spoke with Brant Buckley about his spiritual channeling and the new song.
Paranorms: What are the origins and inspiration for this album?
Brant Buckley: The Times Strange album revolves around my song "Nerve Damage Blues," a tennis song. Tennis has always been a huge part of my life. After graduating from The Berklee College of Music in Boston, I spent a few years in Philly playing music while teaching tennis.
I decided to get USPTA certified at The Port Washington Tennis Academy, the tennis club John McEnroe used to play. After finding work at a prestigious club in Chicago, and I made the move. I figured it would be great to teach tennis and really dive deep into the Blues. After a year of teaching, my right foot gave way and snapped during an on-court hitting lesson.
Then I went through 8-10 doctors who couldn't diagnose me. Eventually, I found a great foot/pain doctor who finally gave me a diagnosis, Neurapraxia. It took me about four years to heal correctly. A lawsuit later, I wrote "Nerve Damage Blues" about the whole experience. During the process: I lost my job, money and sold my car. [The experience] gave me some really bad deep blues. I came to Chicago to learn the Blues, and that's exactly what I got.
Paranorms: What is your experience with energy healing?
Brant Buckley: I started learning about energy healing 12 years ago. My Aunt has a crystal healing business called Hands of Spirit in Boulder, CO, and one of her friends, Chris Paiz (the urban monk), started doing energy sessions on me. He can do them from anywhere in the world. He is in Boulder, and at the time, I was in Philadelphia when I started sessions with him. He still works on me, and I am now in Chicago. Chris can tap into anyone's energy field, read the field, and help them with what he sees energetically going on and can move negative charge. Through him, I learned how to tap into my energy and move my own field. We call it processing and letting go of emotions.
When I moved to Chicago in 2014, I had a kundalini awakening where all the body chakras open. You become beyond super sensitive to energy, and a whole new world opens. You see everything in energy, and it is super intense. It was around that time that I was also initiated in Kriya Yoga. A yogachara opened all of my energy centers and taught me all the techniques. The opening of the spinal energy and centers allows your breath to move up and down your body canal, a greater distance with more effectiveness. Your breath slows down after practicing, and your body requires fewer inhales from breathing. Doing so allows the body battery to recharge and rejuvenate quickly in a high spiritual state and relax and calm down. It is called the lightning path.
Paranorms: How did you use energy healing and spiritual channeling to create the song "Times Strange"?
Brant Buckley: With my song "Times Strange," I listened to Skip James and Robert Johnson. There is unusual ghostly energy to their recordings and there is a lot of stigma around Robert Johnson. I wanted to try and consciously create a track where I pulled in some ghostly entities and old energy. I wouldn't recommend people try this unless they know what they are doing.
I really do believe the soul of Skip James was there with me during the recording. Before recording the song, I tried tapping into his energy field and his aura from the past. I did a lot of meditating beforehand to enter the trance. I wanted to feel what it felt like to play his music. He definitely had an intense ghostly energy field as a lot of the old Blues originators do.
Paranorms: Did you use a similar process for "Mystical Muddy Man"?
Brent Buckley: Mystical Muddy Man is a past life experience as being Muddy [McKinley Morganfield]. That's some heavy stuff. The lyrics in the song, "My soul told me, when I was born, my carbon copy, will take this form. My red guitar, now an orange star…" It is my song about reincarnation; the past and the present. The soul is doing all the talking in the song.
I believe we were all somebody before we were in our current present-day body. In general, most people live in "Maya," the illusion, and will not understand because they cannot see in the soul. Once you can see in the soul, you stop associating with the [physical] body, and when you can do that and go deep in self-reflection and meditation, you can start to see your past lives.
Paranorms: Do you feel that the energy of music can provide a sense of peace, heal, or provide a spiritual connection for people?
Brant Buckley: Absolutely, sound healing [a technique] is based on healing certain energy centers in the body. Each of the seven chakras or energy centers in our body vibrates to a particular frequency. When the sound and chakras meet, it heals them. I think more people need to be o.k. with silence, being alone, and meditating, really going deep inside. That freaks a lot of people out because they are afraid of the unknown.
Times Strange can be listened to digitally via SoundCloud.